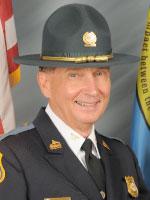 COLONEL JOHN R. MCCARNAN
Colonel McCarnan began his law enforcement career as a patrol officer with the Wilmington (DE) Bureau of Police. After two (2) years of service with that department, he moved to the New Castle County (DE) Police Department where he served for twenty (20) years. Upon retirement from New Castle County, he served four and one half (4 ½) years in Delaware State Government, first as a Deputy Attorney General (Department of Justice) and then as Executive Director of the Division of Alcoholic Beverage Control. Commencing on July 1, 1993, he served as the Police Administrator of the Delaware River and Bay Authority Police Department (DRBA-PD) for sixteen (16), years retiring on January 8, 2010.

Colonel McCarnan led the Delaware River & Bay Authority Police to initial accreditation in 1996. The DRBA-PD was re-accredited four times under Colonel McCarnan's leadership. He has also served as a CALEA assessment team leader and was recognized as a top assessor in February 2001. Under the command of Colonel McCarnan, the police force expanded its responsibilities to include the economic development properties of Salem Business Centre, NCC, Cheswold, Millville, Cape May, Delaware Airpark Airports, and the Twin Forts Ferry operations.

Colonel McCarnan received a Bachelor of Science (Criminal Justice) from Wilmington University (New Castle, DE) and a Juris Doctor Degree from Widener University, School of Law (Wilmington, DE). He is also a graduate of the Southern Police Institute (University of Louisville). In addition, he has served as an adjunct professor (in Criminal Justice) at the University of Delaware and Wilmington University. His professional affiliations include the following: Delaware Bar Association, District of Columbia Bar, Pennsylvania Bar, American Bar Association, U.S. District Courts for Delaware and Pennsylvania, Life Member (Past Chairman) Delaware Police Chief's Council, Executive Board Member of the Delaware Safety Council, Member of the Delaware Police Chiefs' Foundation, and Past Chairman of PAL of Delaware. He also served (6) years in the Delaware Army National Guard. He is currently enjoying his retirement.

Additional Resources
---
---
---