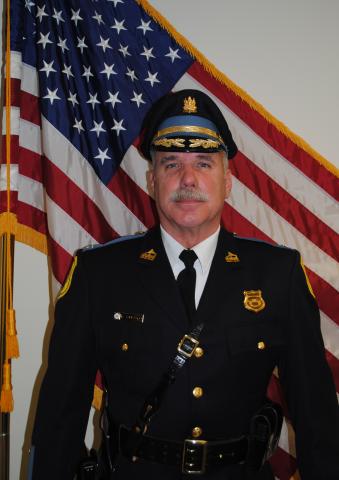 COLONEL RICHARD H. ARROYO
Colonel Richard H. Arroyo began as Police Administrator at the Delaware River and Bay Authority on July 1, 2013. He began his law enforcement career as a municipal police officer in 1975 serving in Atlantic County, New Jersey. In 1982, he became a member of the 100th New Jersey State Police Class, graduating March 4, 1983, and was assigned to numerous Stations throughout South Jersey as a general road duty trooper.

Colonel Arroyo was then assigned to the NJSP Helicopter Unit where he was a pilot, performing flights that included, dignitary escorts, law enforcement, and Medevac. Upon his return to a general road duty assignment, he was promoted as a squad leader and continued to rise through the ranks of the NJSP. During his career in the NJSP, Colonel Arroyo served as the squad leader for Troop "A" TEAMS, a Tactical Patrol supervisor, Troop "A" Traffic Officer, Operations Officer, Moorestown Station Commander, Field Operations Administrative Officer, Aviation Bureau Chief, Executive Officer of the Special Operations Section, Commanding Officer of the Emergency Management Section, retiring as a Lieutenant Colonel, Deputy Superintendent of the Homeland Security Branch.

Upon retiring from the New Jersey State Police in 2008, Colonel Arroyo became the Police Director for the New Jersey State Park Police. Working in conjunction with the Department of Environmental Protection Administrators and the Union Officials, Colonel Arroyo was successful in accomplishing the initial goals set forth in his strategic plan which included a state of the art Computer-Aided-Dispatch system and 800 MHz system; a successful reaccreditation; a hiring process and vehicle replacement plan in place.
Colonel Arroyo earned his graduate degree in Administrative Science from Fairleigh Dickinson University. He is a graduate of Northwestern Staff and Command and has attended numerous Leadership and Management courses throughout his career. He has topic-specific training in HAZMAT, Counter-Terrorism, Weapons of Mass Destruction, Firearms Instructor/Range Master, Specialized Field Disciplines, ICS, COOP/COG, and specialized Emergency Management training. Colonel Arroyo has also received numerous awards and commendations throughout his career.

Colonel Arroyo served in the U.S. Navy, receiving an Honorable Discharge in 1974. He is currently an adjunct professor at Atlantic Cape Community College where he teaches Police Operations.
Additional Resources
---
---
---